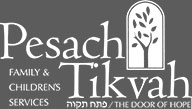 Pesach Tikvah uses a three-pronged PCTI approach to benefit local Holocaust survivors:
A PCTI care management program, which designates one person to serve as the primary contact for our clients, their family members or appointed caregiver, and the social and health care services the client accesses.
PCTI training for care managers, clinicians, volunteers, and administrative staff associated with Pesach Tikvah's Geriatric Service Divisions. Services are also offered to staff at other area agencies serving survivors, thereby promoting PCTI culture throughout the region.
Expansion of highly successful pilot socialization groups, including:

Together with the Kleinman Holocaust Education Center, an opportunity for survivors to translate important Holocaust-era documents. This program affords participants socialization opportunities while giving them the opportunity to contribute meaningfully to Holocaust remembrance.
A treatment-oriented socialization group for individuals with memory loss and their spouses, informed by clinical research and observation. Our goal is to enhance quality of life by awakening available cognition function to its maximum potential while reducing depression and anxiety and promoting mood stability.